YAMAHA YZF-R1 ('04-'06)
REAR SETS
SATO RACING Rear Sets for 2004-2006 Yamaha YZF-R1 are track-engineered and precision CNC-machined from high grade billet aluminum in your choice of Black, Silver, or Gold anodized finish. Modular step plate design provides 6 adjustable positions so you can find the ideal position for your riding style. These Rear Sets utilize the stock frame pass-through for the shift rod. But unlike with stock, our Rear Sets can be set up for either stock shift pattern or reverse shift pattern.

Our 2004-06 R1 Rear Sets are among our all-time best-selling Rear Sets models, and the time-proven design continues to be the top choice for the many fans of this generation of R1.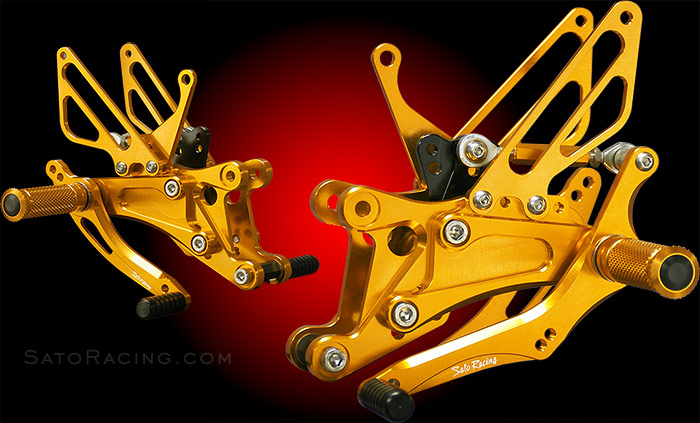 POSITIONS
| | | |
| --- | --- | --- |
| 1 | 10mm Forward | 10mm Up |
| 2 | 10mm Forward | 20mm Up |
| 3 | 0 mm | 20mm Up |
| 4 | 0 mm | 30mm Up |
| 5 | 10mm Back | 20mm Up |
| 6 | 10mm Back | 30mm Up |
Note: all measurements are in relation to stock position (0 mm).


(NOTE: These photos depict the original shift and brake pedal design for our R1 Rear Sets. The
latest version of these Rear Sets has an updated pedal design and a few other cosmetic differences.)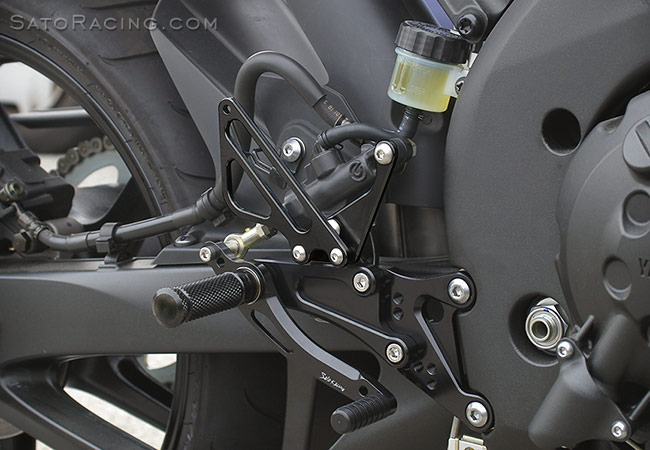 The shift and brake pedals utilize double stainless bearings for smooth, precise pedal movement.
The position of the Step Plate can be adjusted 6 ways. Pedal Tip position is also adjustable.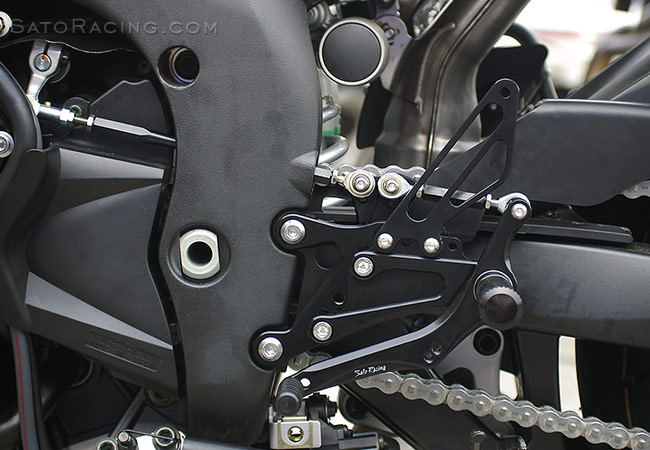 The innovative multi-link design of the shift rod linkage lets you use either
stock shift pattern (shown in photo above), or GP-style reverse shift pattern.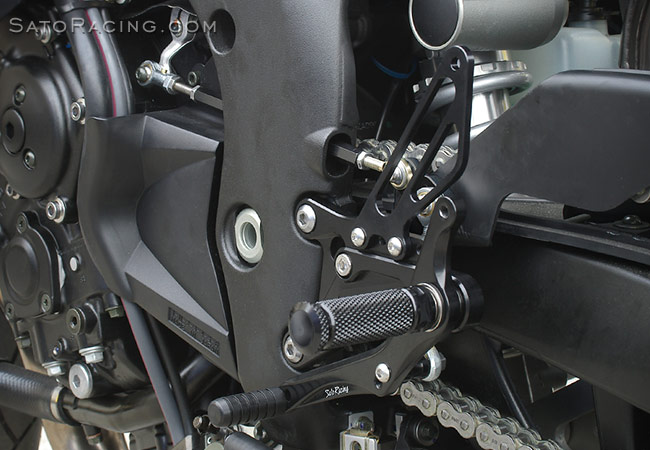 The Foot Pegs have a finely knurled pattern for a comfortable feel
and great grip. (Rear Sets shown set up for reverse shift pattern)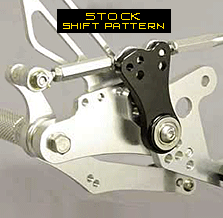 You can switch to a reverse shift pattern
by moving the rod as shown.
BLACK
Y-R104RS-BK
$560
SILVER
Y-R104RS-SV
$560
GOLD*
Y-R104RS-GD
$560
(Brake light switch included.)
* Click Here for important info about Sato GOLD-anodized parts.

SATO RACING offers a full selection of Replacement Parts for our Rear Sets.
* * * Contact us to place an order * * *
To find out individual part names & numbers, see the illustrated parts list
included with your Sato Racing Rear Sets, or view the PDF: Parts List

More Sato Racing items for '04-'06 YZF-R1