KAWASAKI Ninja 250R ('08-'12) / Ninja 300 ('13- )
RACING HOOKS
These high strength billet aluminum Racing Hooks give your Ninja 250/300 sturdy anchor points for hooking tie-down straps or bungee cords, very handy when you need to strap down your bike to transport it. Choose from Black or Gold anodized finish.

Available as [L]-side only, or as a [L] and [R] set of 2. (R-side Hook includes hardware for installing behind stock canister hanger bracket).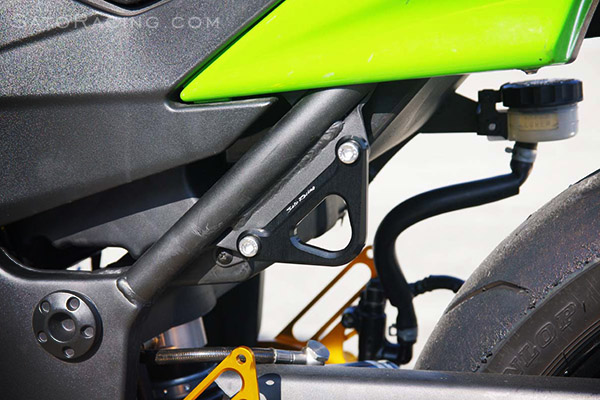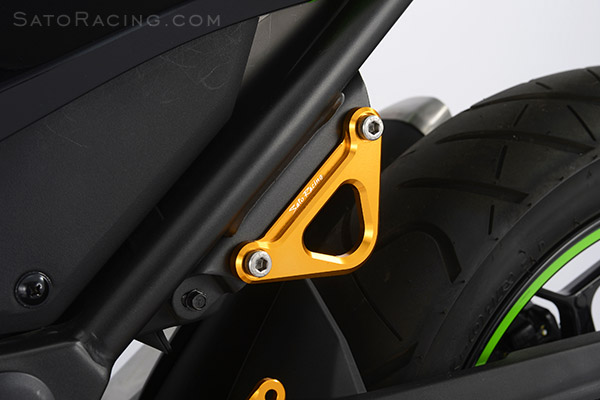 [L] Racing Hook
BLACK
K-250HOOK-L-BK
$35
GOLD*
K-250HOOK-L-GD
$35
Racing Hooks - Set of 2 **
BLACK
K-250HOOK-BK
$70
GOLD*
K-250HOOK-GD
$70
** NOTE: part# K-250HOOK includes hardware for installing the right hook behind the stock exhaust hanger bracket. If you have removed the stock hanger bracket (such as may be the case if you have an aftermarket shorty-style exhaust), we recommend getting quantity 2 of part# K-250HOOK-L instead, since the left and right hooks are identical, and you will get the correct size bolts for the right side.
* Click Here for important info about Sato GOLD-anodized parts.

More Sato Racing items for Ninja 250R / 300