aprilia RSV1000 R/ FACTORY ('04-'08)
REAR SETS
SATO RACING Rear Sets for 2004-08 Aprilia RSV 1000 R/ Factory and 2006-11 Tuono 1000 R features a track-proven design, with parts CNC-machined out of high strength billet aluminum and anodized in a deep Black finish, with stainless steel bolts and hardware. Modular adjustable design lets you choose from 5 foot peg positions that bring your feet higher up and forward or back compared to stock, so you can find the ideal position for your riding style. You can set it up for stock shift to reverse shift pattern.
POSITIONS
| | | |
| --- | --- | --- |
| 1 | 10mm Forward | 10mm Up |
| 2 | 0 mm | 10mm Up |
| 3 | 0 mm | 20mm Up |
| 4 | 10mm Back | 10mm Up |
| 5 | 10mm Back | 20mm Up |
Note: all measurements are in relation to stock position (0 mm).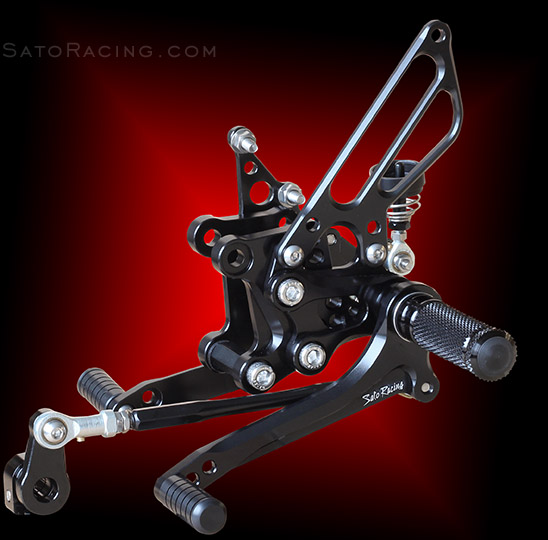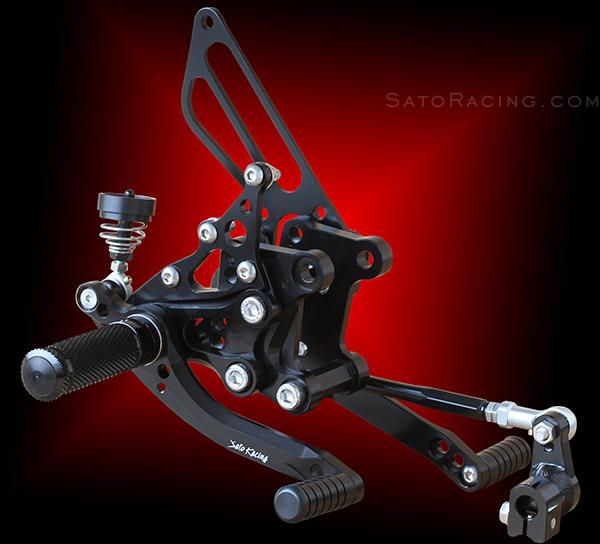 Note: The following install photos show the original version of our RSV1000R/Factory Rear Sets. The current version of this Rear Sets model has some minor design differences, and is now available in Black only. (See photos above for the current design)

The shift and brake pedals use miniature double stainless
bearings for smooth, precise lever action with a solid feel.

A hydraulic brake light switch is included with the kit.
A Brake Return Spring (not pictured) is also included.
(Note: This model does not have a right side heel guard)

The included change arm can be set up for stock shift pattern, or use it in
GP-style reverse shift pattern by flipping the arm the opposite direction.

The Foot Pegs have a finely knurled pattern for great grip, along with a comfortable,
intuitive feel. The Pedal Tips (toe pegs) are made of tough, abrasion-resistant Delrin.
BLACK
A-RSV04RS2-BK
$600
NOTE: This is a limited re-issue of a model that ended production a few years ago, but continued requests led us to special order a few more sets. After this 'final edition' batch is sold, this model will be gone forever, so don't miss this chance to put a set on your Aprilia!


Have questions or prefer to order by phone? You can call us to place an order -



SATO RACING offers a full selection of Replacement Parts for our Rear Sets.
* * * Contact us to place an order * * *
To find out individual part names & numbers, see the illustrated parts list
included with your Sato Racing Rear Sets, or view the PDF: Parts List

More SATO RACING items for RSV1000 R/ Factory