KAWASAKI ZEPHYR 750 ('91-'07)
REAR SETS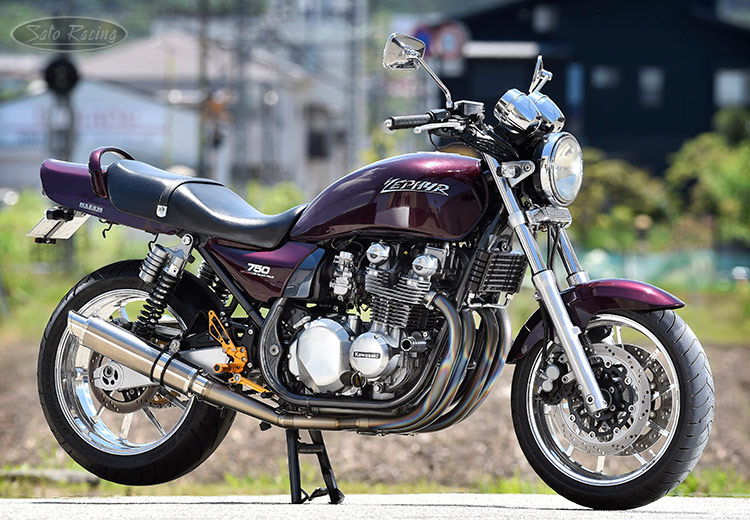 SATO RACING Rear Sets for Kawasaki Zephyr 750 features a track-engineered design with components precision CNC-machined out of high strength anodized billet aluminum, with stainless steel bolts and hardware. Adjustable peg mounting positions bring your feet higher up and further back compared to the stock foot position, for a sportier riding position. Choice of all-Black, or Silver or Gold anodized finish over Black Base Plates, with optional Black anodized exhaust hangers.
POSITIONS
| | | |
| --- | --- | --- |
| 1 | 35mm Back | 20mm Up |
| 2 | 40mm Back | 20mm Up |
| 3 | 42.5mm Back | 32.5mm Up |
| 4 | 47.5mm Back | 32.5mm Up |
note: all measurements are in relation to stock position (0 mm).

NOTE: If using the optional canister brackets, the upper 2 positions (3/4) cannot be used.
On the left side, side stand modifications may be required. (Removal of some stays, etc.)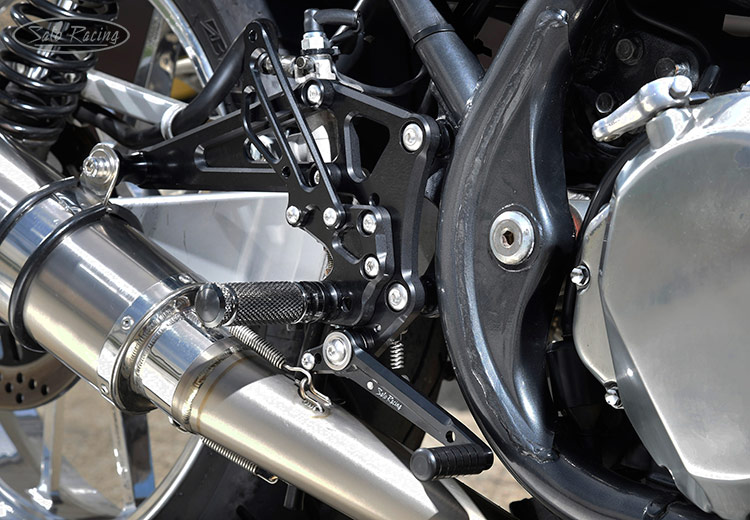 The shift and brake pedals incorporate miniature double stainless bearings for smooth, precise lever actuation with a solid feel. Modular adjustable design provides 2 mounting positions for the Foot Peg, and 2 diagonally adjustable positions for the Step Plate mount, for a total of 4 positions.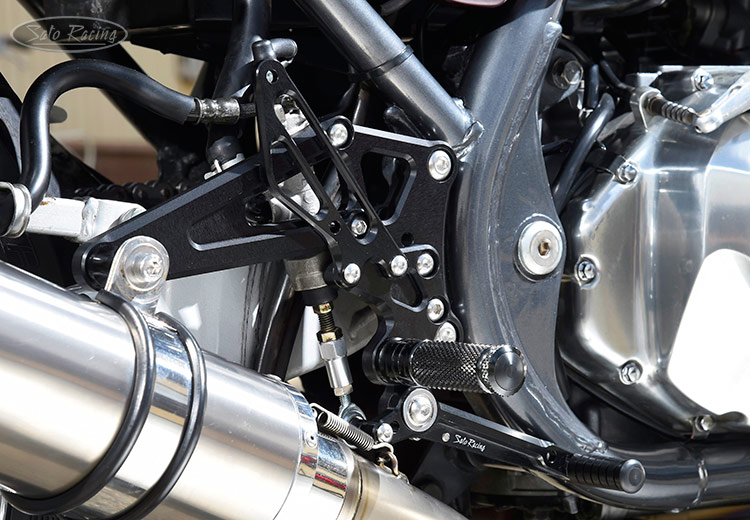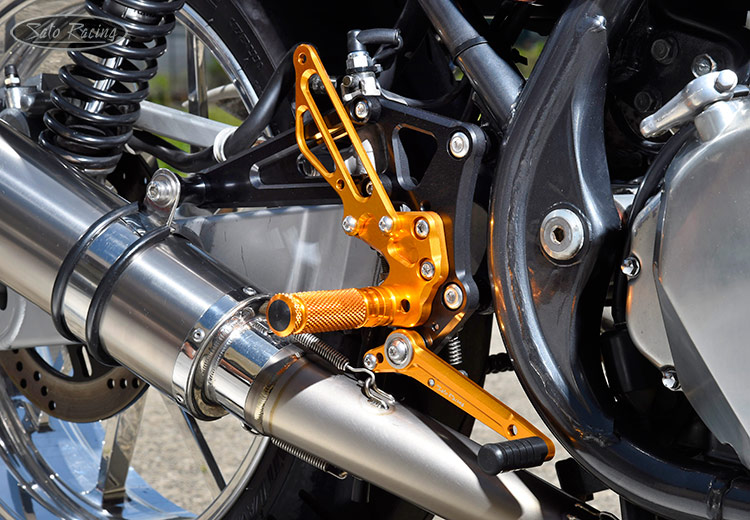 A Brake Light Switch that attaches to the master cylinder is included with these Rear Sets.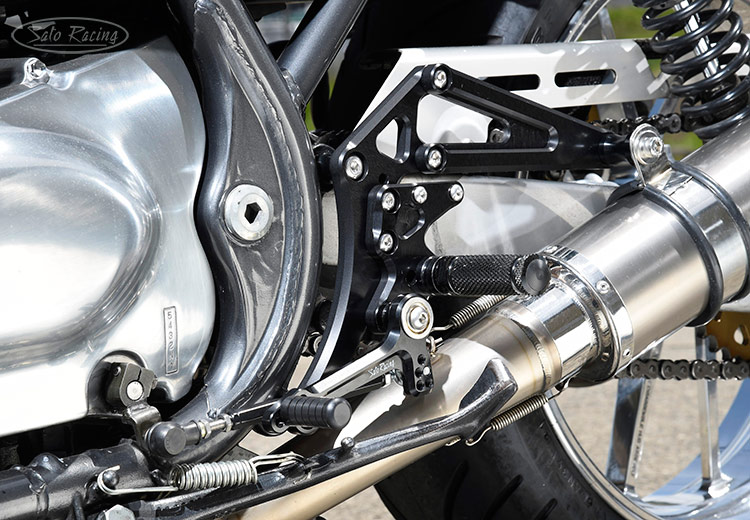 Our Zephyr 750 Rear Sets can be set up for stock shift or reverse/GP shift
pattern by changing the mount angle of the stock change arm.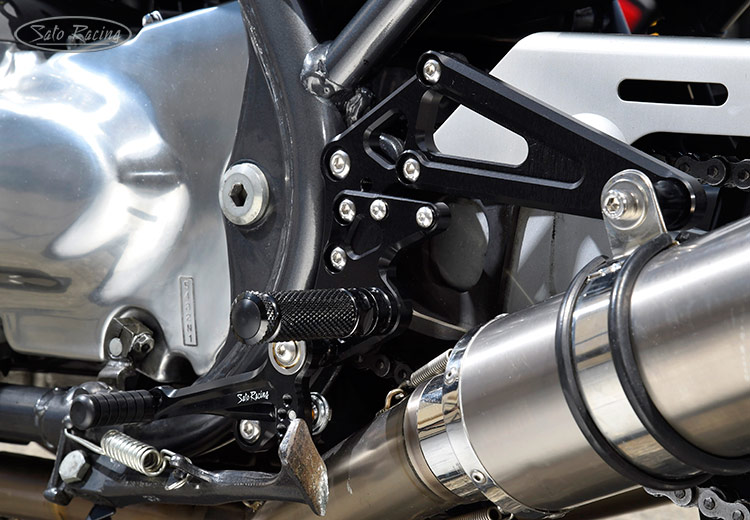 The Foot Pegs are fixed style (non-folding), and have a fnely knurled pattern for optimal grip, along with a comfortable, intuitive feel. The standard Pedal Tips are made of tough, abrasion-resistant black Delrin plastic, and are adjustable.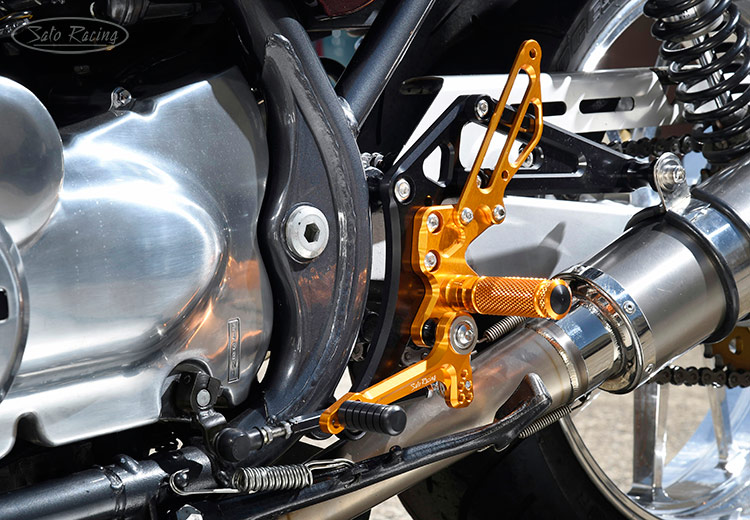 The Canister Brackets are optional and come in a black anodized finish.
REAR SETS
BLACK
K-ZEP750RS-BK
$585
SILVER
w/ Black Base Plates
K-ZEP750RS-SV
$585
GOLD*
w/ Black Base Plates
K-ZEP750RS-GD
$585
AVAILABLE SOON
CANISTER BRACKET
This optional bracket attaches to the tail end of our Rear Sets, providing a way to hang an exhaust canister. Made of high strength black-anodized billet aluminum, with stainless steel hardware. The canister attachment position is near equivalent to stock, but it may be necessary to adjust the offset amount etc. depending on the mounting method of each muffler.
NOTE: The upper 2 Rear Sets positions cannot be used when the Canister Bracket is attached.
Canister Bracket is sold individually, and is the same part for both sides. For dual-sided exhausts, purchase Qty:2.
BLACK
K-ZEP750CB
$90
AVAILABLE SOON
Have questions or prefer to order by phone? You can call us to place an order -


* Click Here for important info about Sato GOLD-anodized parts.

More Sato Racing items for Zephyr 750