aprilia RSV4 / Tuono V4 1100 ('17- )
REAR SETS
SATO RACING Rear Sets for 2017-18 aprilia RSV4 and Tuono V4 models are precision CNC-machined from high strength billet aluminum, and anodized in your choice of Black, Silver (clear metal) or vivid Gold finish. This track-tested design provides 5 adjustable foot peg positions in a range that brings your feet progressively higher up and further back compared to stock, for a more aggressive riding position well-suited to the fast straights and steep lean angles encountered on the track.

2 versions of these Rear Sets are available: The standard Rear Sets have a stock shifting pattern, while the Reverse Shift Rear Sets provide a dedicated reverse (GP-style) shift pattern.

The shift and brake pedals use miniature double stainless bearings for smooth, precise lever action.
The black cylindrical part above the brake pedal can be rotated to adjust the rest height of the pedal.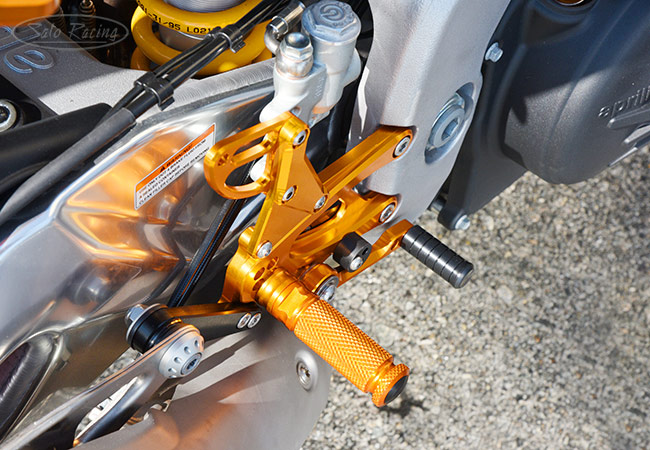 You can adjust the positions of the Foot Peg and the Pedal Tip. The Foot Pegs
have a knurled pattern for great grip, along with a comfortable, intuitive feel.
POSITIONS
| | | |
| --- | --- | --- |
| 1 | 20mm Back | 15mm Up |
| 2 | 20mm Back | 25mm Up |
| 3 | 20mm Back | 35mm Up |
| 4 | 30mm Back | 25mm Up |
| 5 | 30mm Back | 35mm Up |
note: all measurements are in relation to stock position (0 mm).

Stock Shift Rear Sets shown above. The shifter is optimized for use with APRC (quickshifter)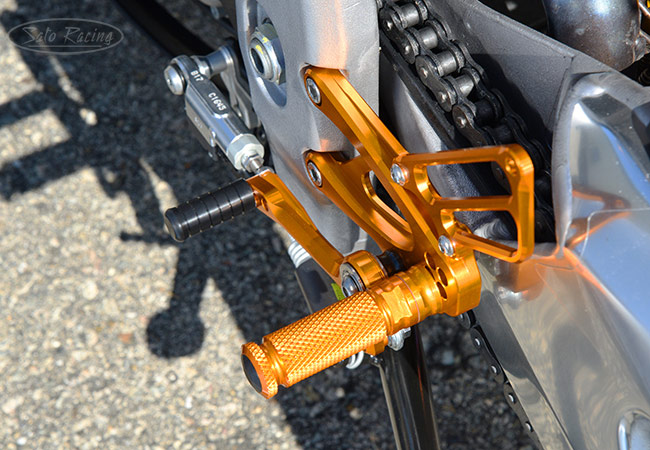 The standard Pedal Tips are made of tough Delrin plastic. Additional Pedal Tip styles, such as
folding-style aluminum Pedal Tips with rubber sleeves, are an available option: More Details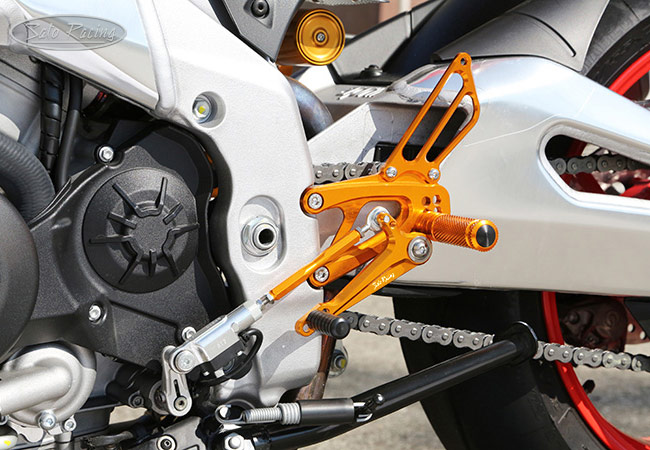 Reverse Shift Rear Sets- provide a dedicated reverse (GP-style) shifting pattern.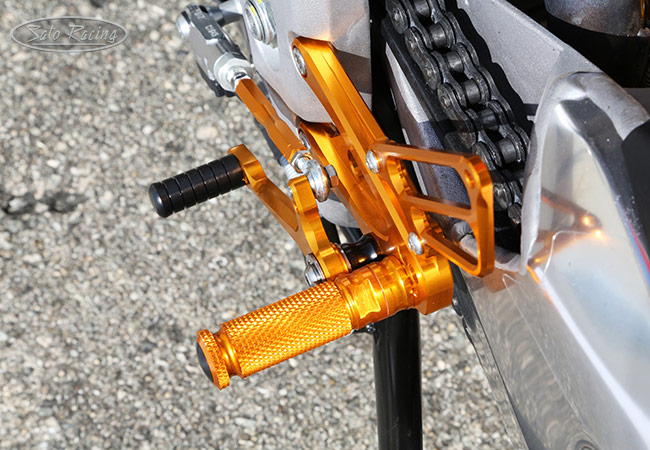 (Reverse Shift Rear Sets shown)
REAR SETS - Stock Shift Pattern
BLACK
A-RSV417RS-BK
$565
SILVER
A-RSV417RS-SV
$565
GOLD *
A-RSV417RS-GD
$565
REVERSE SHIFT REAR SETS
BLACK
A-RSV417RSR-BK
$565
SILVER
A-RSV417RSR-SV
$565
GOLD *
A-RSV417RSR-GD
$565
* Click Here for important info about Sato GOLD-anodized parts.
Have questions or prefer to order by phone? You can call us to place an order -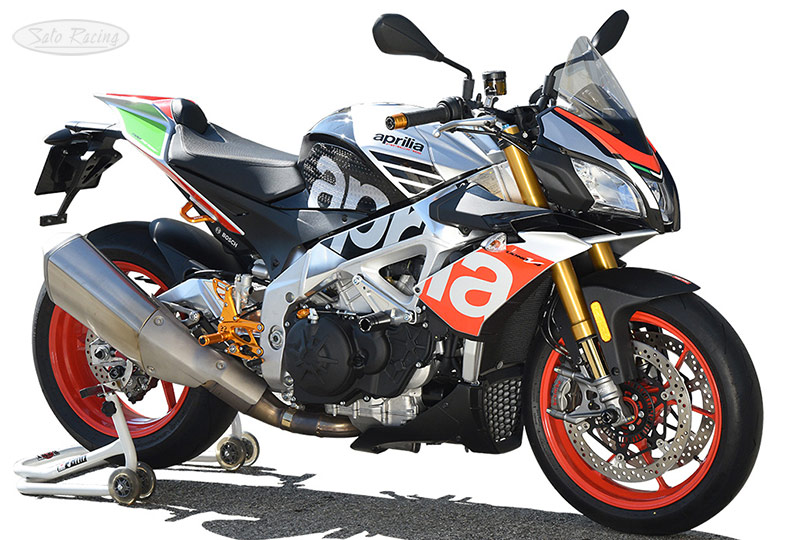 '17 Aprilia Tuono V4 with SATO RACING Rear Sets, Sliders, Racing Hooks and other parts.

More Sato Racing items for 2017-18 RSV4 / Tuono V4