aprilia TUONO V4 R APRC ('12-'13)*
SATO RACING Rear Sets for aprilia Tuono V4 R APRC ('12-'13)* are made from high grade billet aluminum anodized in a stunning Black, Silver, or Gold finish. The shift and brake pedals feature double stainless bearings for smooth, precise pedal operation. Deeply knurled footpegs provide optimal grip even in wet conditions. Choose from 5 adjustable positions in a range moves your feet more forward and a little lower compared to stock.
POSITIONS
| | | |
| --- | --- | --- |
| 1 | 42.5mm Forward | 15mm Down |
| 2 | 42.5mm Forward | 5mm Down |
| 3 | 30mm Forward | 15mm Down |
| 4 | 30mm Forward | 5mm Down |
| 5 | 30mm Forward | 5mm Up |
note: all measurements are in relation to stock position (0 mm).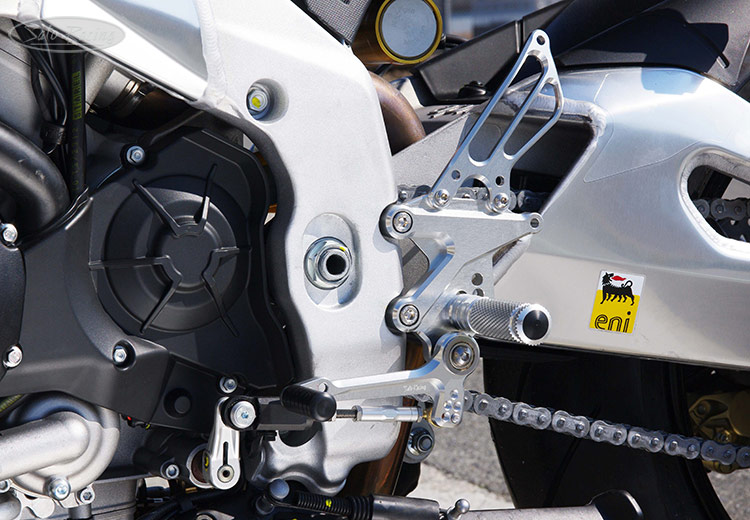 Shift controls optimized for use with APRC (quickshifter) version of V4 R.
NOTE: These Rear Sets provide a stock shifting pattern.
Reverse shift pattern is not an option for this model.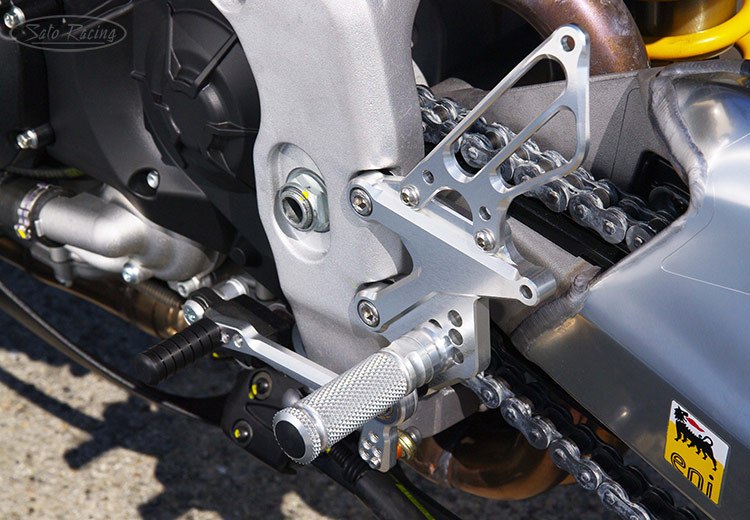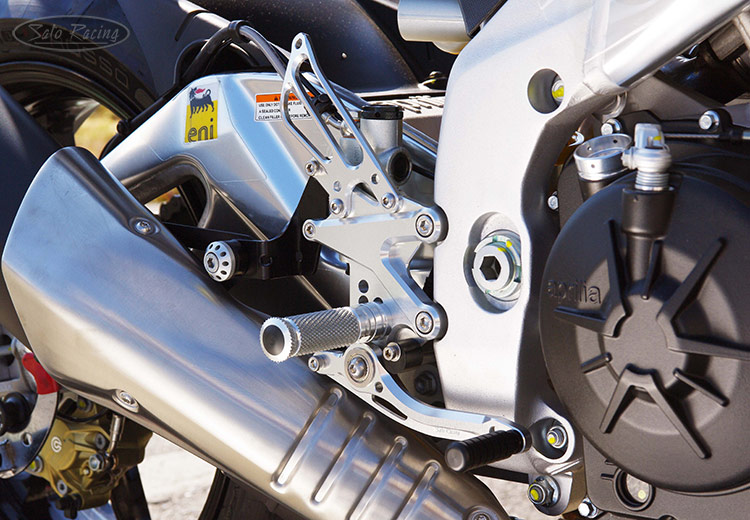 You can adjust the positions of the shift and brake pedal tips, along with the foot pegs.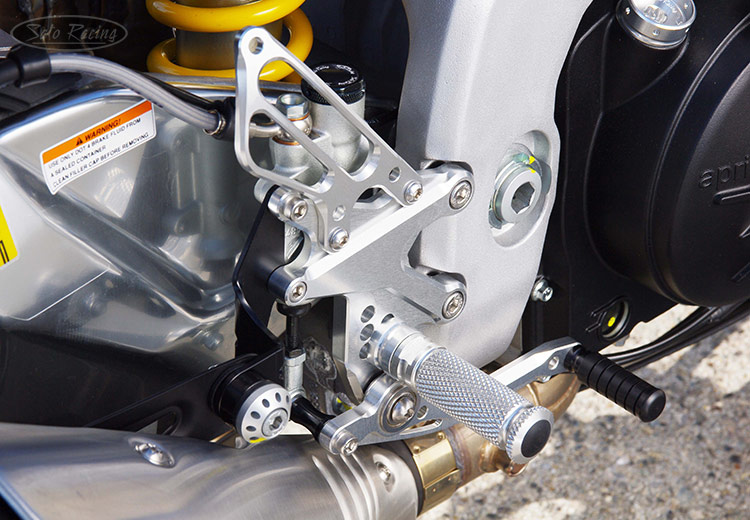 Foot pegs have a knurled pattern for excellent grip characteristics.
* NOTE: These Rear Sets were originally designed for the 2012 V4 R APRC without ABS, but they can also be installed on the 2013 and later ABS-equipped V4 models. If you have an ABS model, let us know and we will include thicker base plate collars for the right side, recommended to provide some additional clearance for the master cylinder.

(NOTE: Unlike our standard 2013-16 RSV4/ V4R ABS Rear Sets, these Rear Sets are not compatible with the stock brake light switch on ABS models. A hydraulic brake light switch is included with these Rear Sets).
BLACK
A-V4RRS-BK
$635
SILVER
A-V4RRS-SV
$635
GOLD*
A-V4RRS-GD
$635
(P-1.0 Brake Light Switch is included in kit)
* Click Here for important info about Sato GOLD-anodized parts.

REPLACEMENT PARTS
SATO RACING offers a full selection of Replacement Parts for our Rear Sets.
* * * Contact us to place an order * * *
To find out individual part names & numbers, see the illustrated parts list
included with your Sato Racing Rear Sets, or view the PDF: Parts List

More Sato Racing items for Tuono V4 R APRC