HONDA CB400SF (ABS version*, '08-'13)
REAR SETS
(This bike is sold in Asia and Australia)
SATO RACING Rear Sets for ABS-equipped 2008-13 CB400SF are precision CNC-machined from high strength billet aluminum and anodized in your choice of Black, Silver, or Gold finish. The shift and brake pedals utilize miniature double stainless bearings for smooth, precise lever action with a solid feel. Knurled footpegs provide optimal grip even in wet conditions. Select from 3 adjustable foot peg positions that bring your feet higher up and further back compared to the stock peg position. Easily switch from stock shift to reverse shift pattern by rotating the change arm.

Optional Tandem Brackets can be added too, which are designed for use with the stock passenger pegs.

* Designed for use on ABS-equipped models. Full compatibility with non-ABS version of CB400SF has not been confirmed.
POSITIONS
| | | |
| --- | --- | --- |
| 1 | 10mm Back | 7.5mm Up |
| 2 | 20mm Back | 17.5mm Up |
| 3 | 30mm Back | 27.5mm Up |
note: all measurements are in relation to stock position (0 mm).

Switch from stock shift to reverse shift pattern by rotating the change arm.

Rear Sets shown with optional Tandem Bracket.
Tandem Brackets use the OEM passenger peg hardware.
Rear Sets
BLACK
H-CB4RS-BK
$475
SILVER
w/ BLACK base plate
H-CB4RS-SV
$475
GOLD
w/ BLACK base plate
H-CB4RS-GD
$475
Tandem Bracket set
Use with stock passenger pegs. If you install with the stock exhaust,
you will also need our Canister Hanger. (see below)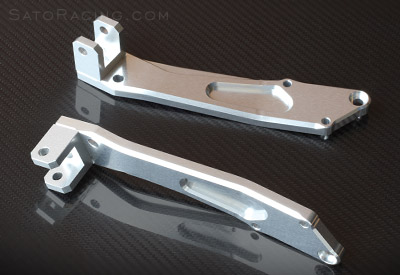 BLACK
H-CB4TB-BK
$265
SILVER
H-CB4TB-SV
$265
GOLD
H-CB4TB-GD
$265
Exhaust Canister Hanger
This canister hanger is necessary if installing
Sato CB400SF Tandem Brackets with the stock
exhaust canister. Lightweight aluminum alloy
with matte black finish.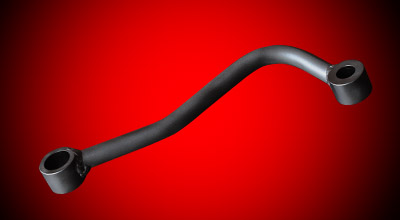 BLACK
H-CB4CH-BK
$60

SATO RACING offers a full selection of Replacement Parts for our Rear Sets.
* * * Contact us to place an order * * *
To find out individual part names & numbers, see the illustrated parts list
included with your Sato Racing Rear Sets, or view the PDF: Parts List

More Sato Racing items for Honda CB400SF