DUCATI 848 / 848 EVO
REAR SETS
( Type1 / Type2 )
SATO RACING Rear Sets for Ducati 848 / 848 evo are a track-engineered design, precision CNC from high strength billet aluminum, and anodized in your choice of Black, Silver (clear metal), or Gold finish.

2 versions of these Rear Sets are available. 'Type 1' version Rear Sets are designed to work with the stock Ducati brake pedal, or you can get a matching SATO Adjustable Brake Pedal. The 'Type 2' version Rear Sets includes an integrated brake pedal that pivots from the step plate.

Both versions feature a modular design that lets you choose from 10 adjustable positions, ranging from stock equivalent to higher and more forward positions. On 848 models without DQS, these Rear Sets can be set up for either stock or reverse shift pattern, depending on the mounting angle of the OEM shift arm. An adjustable billet aluminum Shift Arm that works well with these Rear Sets is an available option. (On 848 models with DQS, these Rear Sets are stock shift only.)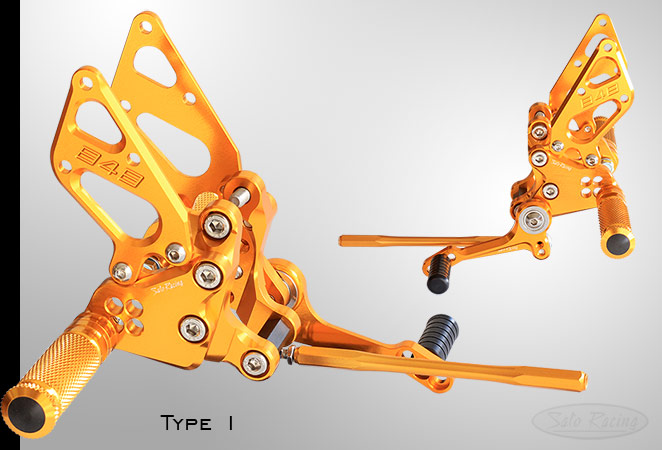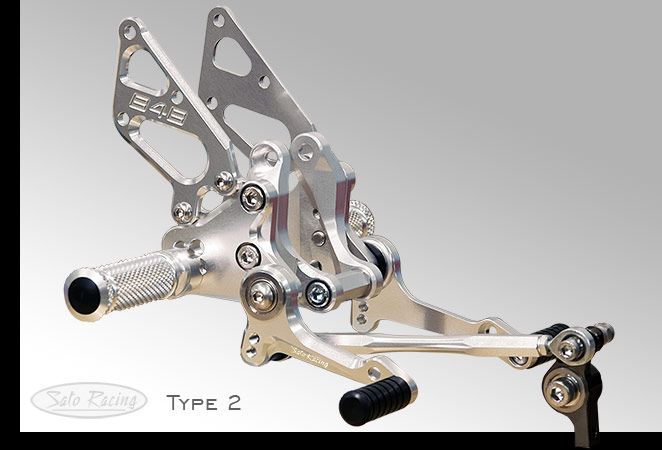 POSITIONS
| | | |
| --- | --- | --- |
| 1 | 0mm | 0mm |
| 2 | 5mm Forward | 15mm Up |
| 3 | 10mm Forward | 5mm Up |
| 4 | 10mm Forward | 15mm Up |
| 5 | 15mm Forward | 20mm Up |
| 6 | 15mm Forward | 30mm Up |
| 7 | 20mm Forward | 5mm Up |
| 8 | 20mm Forward | 15mm Up |
| 9 | 25mm Forward | 20mm Up |
| 10 | 25mm Forward | 30mm Up |
note: all measurements are in relation to stock position (0 mm).
Note: Most of the following photos show SATO 'type 1' and 'type 2' Rear Sets for the Ducati 1098.
Our Rear Sets for the 848 are essentially the same but have different, 848-specific heel guards.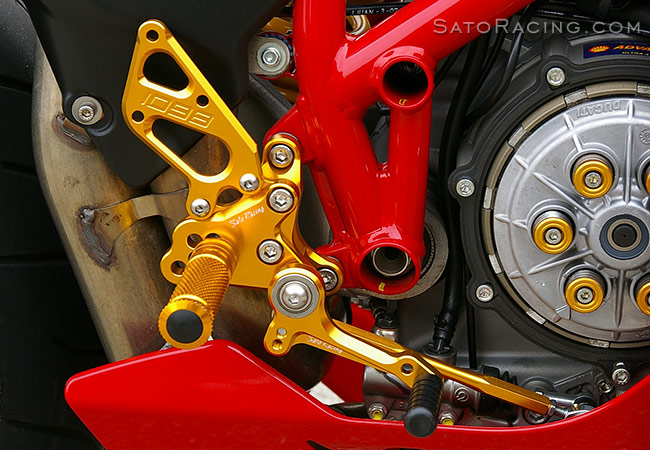 The shift and brake pedals utilize double stainless bearings for smooth, precise movement.
( 'Type2' Rear Sets shown )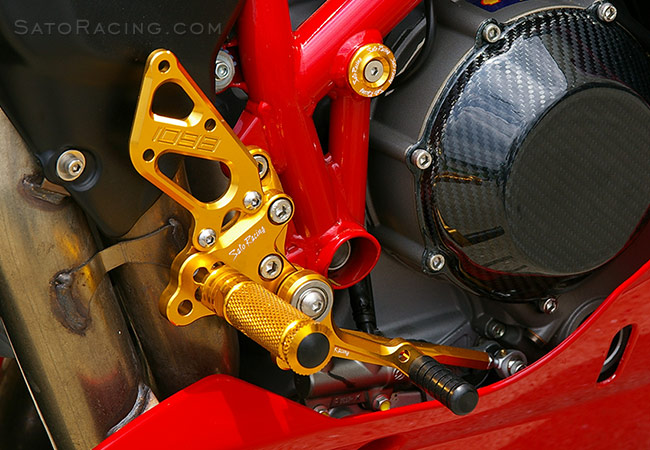 Deeply knurled footpegs keep your feet firmly planted even in wet conditions.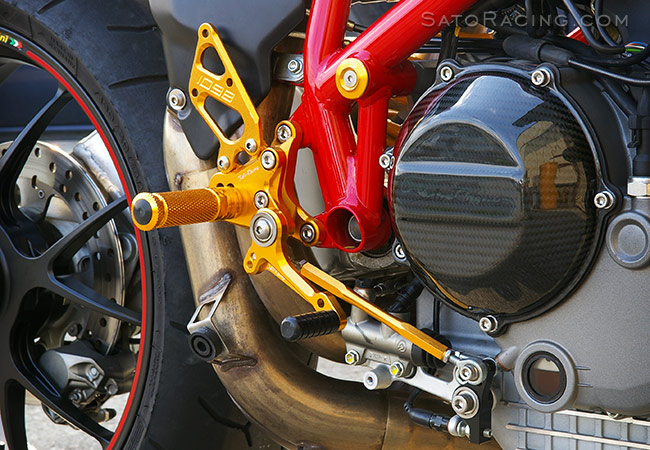 These 'Type2' Rear Sets feature an integrated brake pedal for precision braking feel.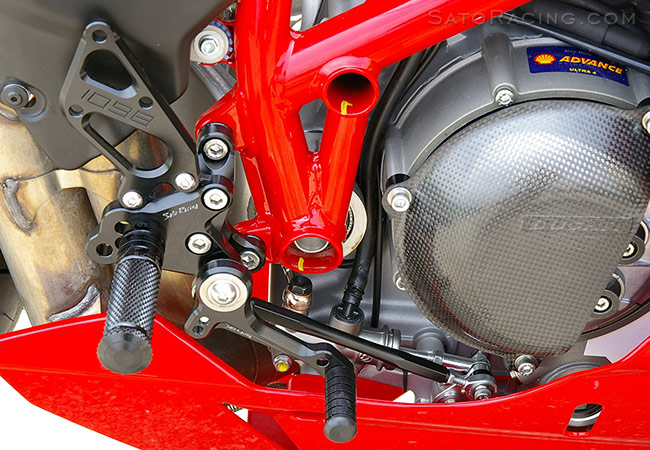 ( 'Type2' Rear Sets )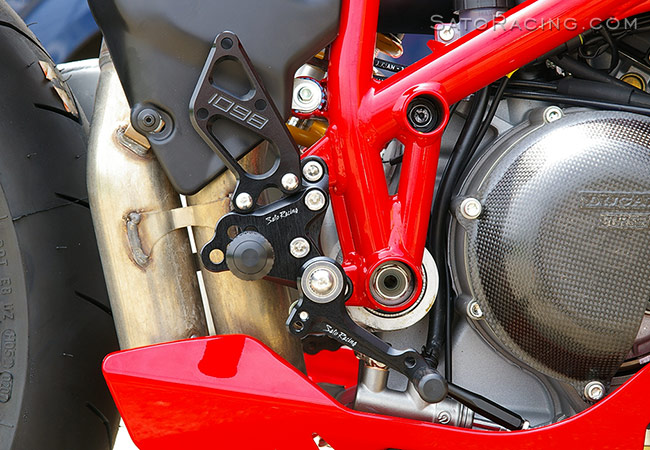 The positions of both the Step Plates and the Foot Pegs can be adjusted
several ways, so you can find the perfect position for your riding style.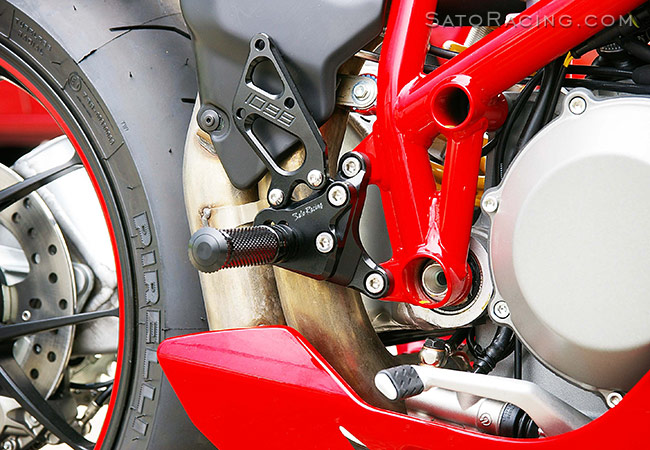 Our 'Type1' Rear Sets can be used with the stock Ducati brake pedal,
or you can upgrade to a matching Sato Adjustable Brake Pedal.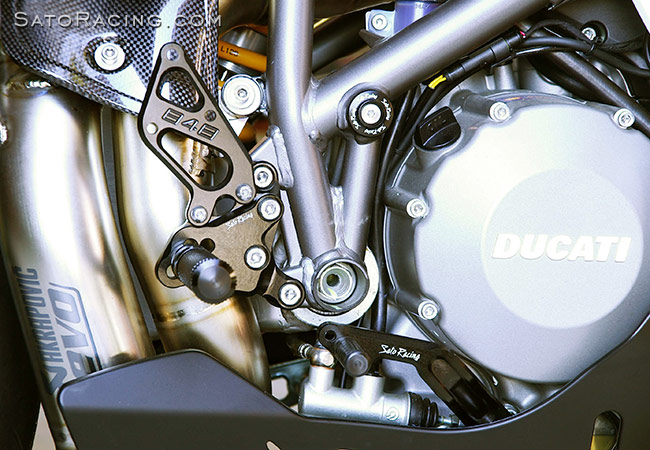 848 Type 1 Rear Sets shown with optional Sato Adjustable Brake Pedal.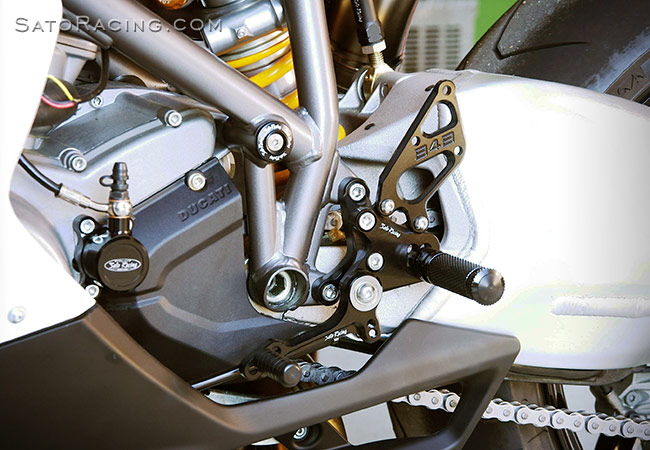 Pedal Tip position and Shift Rod mounting position are also adjustable, letting you fine-tune the shift
stroke. You can change these Rear Sets to reverse (GP) shift pattern by rotating the stock shift arm.
NOTE: If installing with DQS (Ducati Quick Shifter), these Rear Sets are stock shift pattern only.
Type 1
(Uses STOCK brake pedal or optional SATO Adjustable Brake Pedal Kit)
Online Special -
We've got a few too many sets of the 'type1' Rear Sets in GOLD in our inventory right now, so we have temporarily lowered our prices on those. If you have always wanted to try out these excellent Rear Sets on your 848, now is a great time! *
BLACK
D-848RS1-BK
$525
SILVER
D-848RS1-SV
$525
GOLD
D-848RS1-GD
$525 $420
* (Clearance item pricing - no exchanges / returns)
Type 2
(w/ integrated brake pedal)
BLACK
D-848RS2-BK
$635
SILVER
D-848RS2-SV
$635
GOLD
D-848RS2-GD
$635

OPTIONAL PARTS

ADJUSTABLE BRAKE PEDAL KIT
For use with 848 'Type1' Rear Sets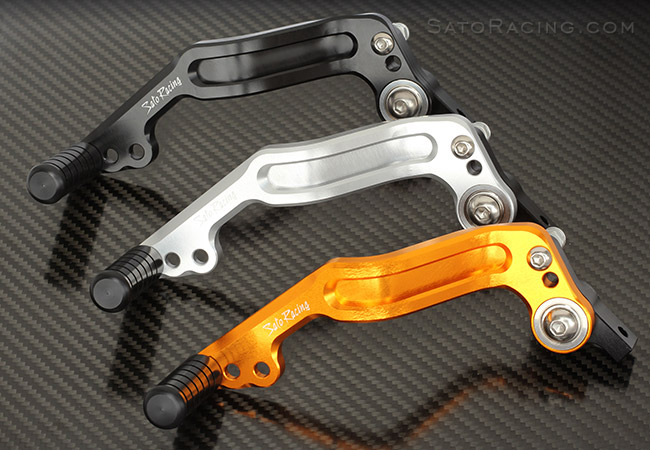 This adjustable brake pedal assembly replaces the stock brake pedal on Ducati 848 / 1098 / 1198. Made of anodized billet aluminum (choice of Black, Silver or Gold), with double stainless bearings for smooth, precise braking action. Pedal tip can be adjusted to 3 different positions. Works great with SATO RACING 'Type1' Rear Sets for Ducati 848/ 1098/ 1198.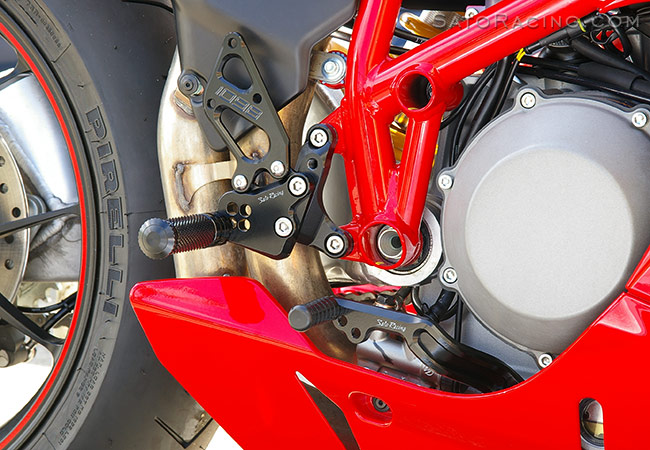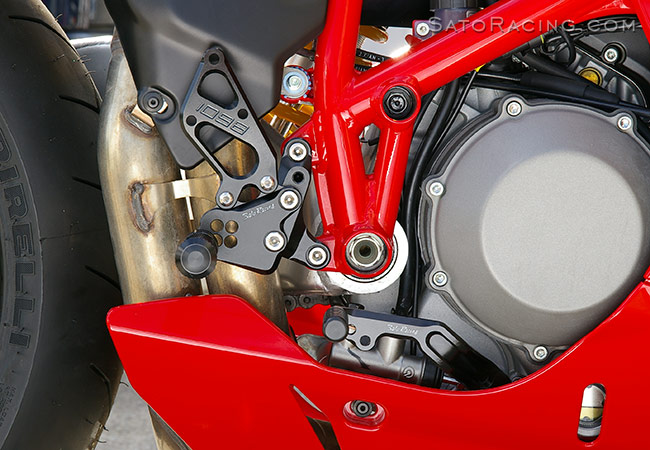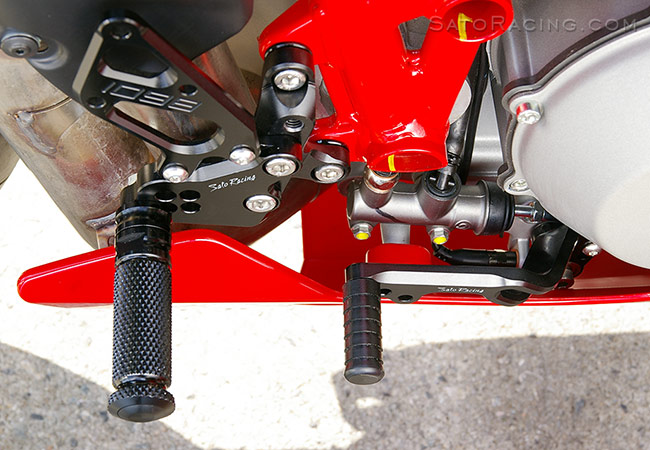 Note: The brake pedal might touch the lower fairing when installed
with certain aftermarket exhaust systems and some positions.
BLACK
D-1098BPD-BK
$155
SILVER
D-1098BPD-SV
$155
GOLD
D-1098BPD-GD
$155

REPLACEMENT PARTS
SATO RACING offers a full selection of Replacement Parts for our Rear Sets.
* * * Contact us to place an order * * *
To find out individual part names & numbers, see the illustrated parts list included
with your Sato Racing Rear Sets, or view the PDF: Type 1 | Type 2

More Sato Racing items for 848