KAWASAKI ZX-10R ('16-)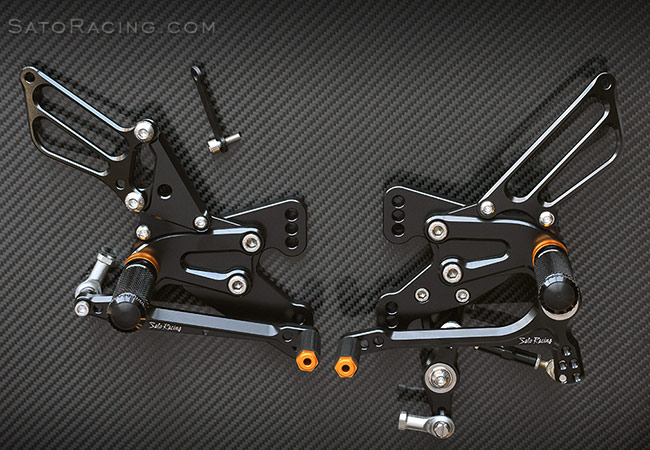 SATO RACING 'Race Concept' Rear Sets for 2016- Kawasaki ZX-10R are pure, no-compromise race-spec Rear Sets, designed for track-only bikes. CNC-machined out of high strength billet aluminum, these Rear Sets feature a modular base plate / step plate design that provides 9 adjustable positions in a useful range for the track, bringing your feet significantly higher up and further back compared to stock. Heavy duty multi-link shift linkage works well with the stock quick shifter. Choose from anodized Black finish with Gold accents, or Gold finish with Black base plates and shift assembly.
NOTE: Not for street use - No brake light switch hardware is included.
Not designed for use with ABS.
(For more street-friendly Rear Sets, see our standard ZX-10R '16- Rear Sets ).
POSITIONS
| | | |
| --- | --- | --- |
| 1 | 17.5mm Back | 32.5mm Up |
| 2 | 17.5mm Back | 42.5mm Up |
| 3 | 17.5mm Back | 52.5mm Up |
| 4 | 27.5mm Back | 32.5mm Up |
| 5 | 27.5mm Back | 42.5mm Up |
| 6 | 27.5mm Back | 52.5mm Up |
| 7 | 37.5mm Back | 32.5mm Up |
| 8 | 37.5mm Back | 42.5mm Up |
| 9 | 37.5mm Back | 52.5mm Up |
note: all measurements are in relation to stock position (0 mm).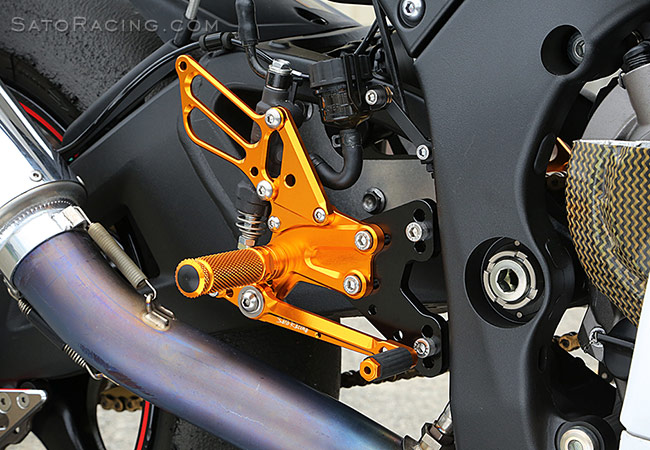 Modular design lets you separately adjust the positions of the Base Plate and Step Plate so you can
easily achieve the ideal position for your riding style. The Pedal Tip position is also adjustable.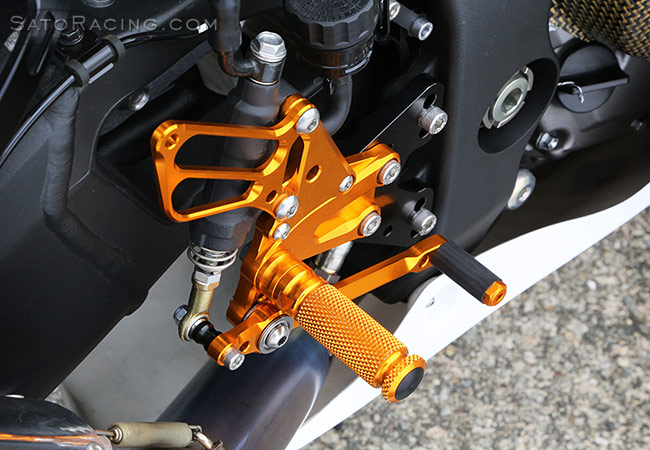 The Foot Pegs are finely knurled for superior grip and comfort. The Pedal Tips are gold-anodized
aluminum, with replaceable fluted rubber grips. Additional Pedal Tip styles are also available.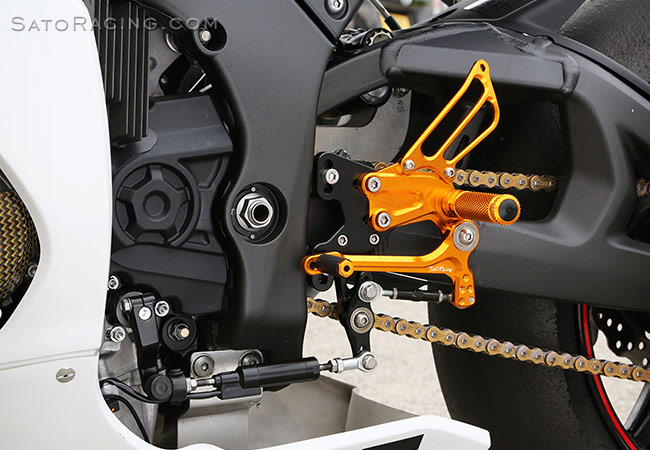 These Rear Sets are designed to work seamlessly with the stock quick shifter. The Shift linkage and
brake pedal utilize double stainless bearings for smooth, precise pedal movement with a solid feel.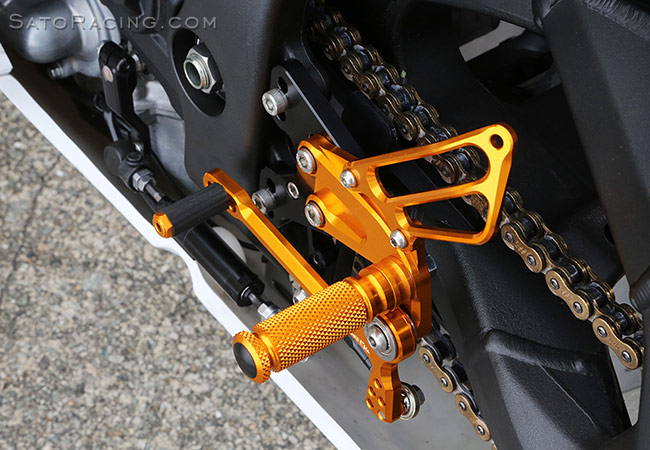 Multi-link shift linkage design provides a dedicated reverse (GP style) shifting pattern.
BLACK
w/ GOLD accents
K-ZX1016RCRS-BK
$600
GOLD
w/ BLACK base plates
K-ZX1016RCRS-GD
$600
* Click Here for important info about Sato GOLD-anodized parts.
Have questions or prefer to order by phone? You can call us to place an order -



OPTIONAL PART

BRAKE RETURN SPRING
SATO RACING Brake Return Spring quickens the pedal return and may make the pedal feel more responsive compared to no spring. Compatible with specified models of SATO RACING Rear Sets.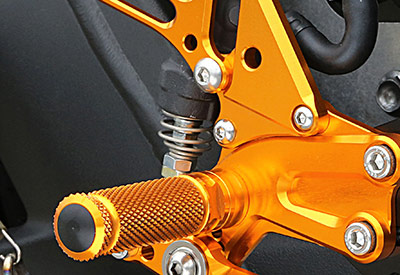 BRAKE RETURN SPRING 40
RS-RSP
$8.00

SATO RACING offers a full selection of Replacement Parts for our Rear Sets.
* * * Contact us to place an order * * *
To find out individual part names & numbers, see the
illustrated parts list included with your Sato Rear Sets.

More Sato Racing items for 2016 ZX-10R