YAMAHA YZF-R3 (YZF-R25) ('15- )

Design v.2 (high brake pedal)
SATO RACING 'Race Concept'-edition Rear Sets are pure, no-compromise racing rear sets designed for track-only bikes.

Our 'Race Concept' Rear Sets (design v.2) for 2015 and up Yamaha YZF-R3 (and the non-US YZF-R25) are made especially for bikes that have a custom or aftermarket exhaust that is higher than stock, and could possibly interfere with brake actuation if installed with our original (design v.1) R3 Race Concept Rear Sets, so to solve this potential issue, these 'version 2' Rear Sets have a brake pedal that is mounted inline with the foot peg, instead of mounted on a separate axis below it, such as on the original design. Other than that difference, these Rear Sets are identical to the original model.

Our Race Concept Rear Sets are CNC-machined from high strength anodized billet aluminum (choice of Black with Gold accents, or Gold with Black base plates), and feature a modular design lets you select from 7 adjustable positions in an aggressive range that can bring your feet up to 85mm higher and 70mm further back compared to stock, to help you achieve the kind of riding position well-suited to the fast straights and steep lean angles you may encounter on the track. These Rear Sets can be set up for either stock shift pattern or reverse (GP style) shift pattern.

NOTE: Not recommended for street use. Not compatible with stock brake light switch sensor. For the standard (non-ABS) model only.

For more 'street'-friendly Rear Sets, see our standard R3 Rear Sets.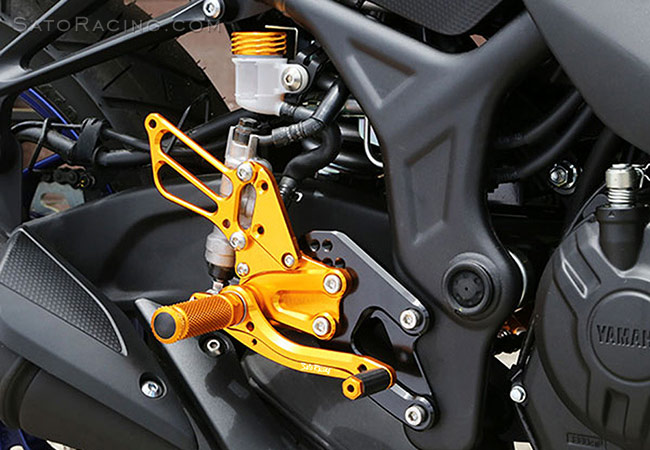 The shift and brake pedals utilize double stainless bearings for smooth, precise pedal movement.
Gold-anodized aluminum Pedal Tips with fluted rubber grips are standard with these Rear Sets.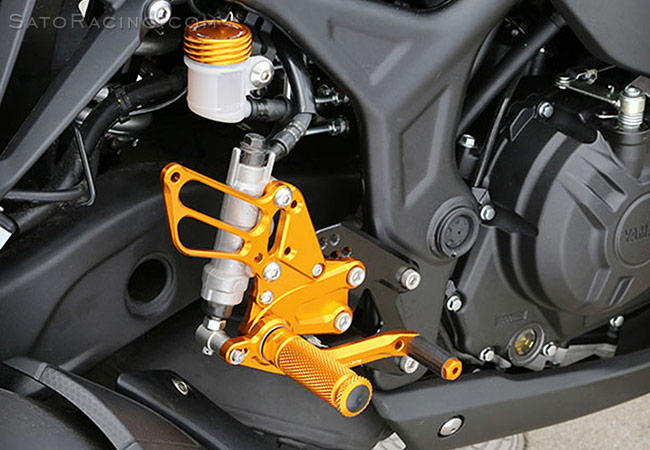 The Brake Pedal is mounted on the same axis as the foot peg, which gives the pedal an additional inch of lower clearance compared to our 'version 1' R3 Race Concept Rear Sets. This can be useful in some situations, particularly if you have an aftermarket exhaust that comes up higher than stock and you want to use the lowest rearset position.
POSITIONS
| | | |
| --- | --- | --- |
| 1 | 50mm Back | 60mm Up |
| 2 | 60mm Back | 60mm Up |
| 3 | 50mm Back | 72.5mm Up |
| 4 | 60mm Back | 72.5mm Up |
| 5 | 70mm Back | 72.5mm Up |
| 6 | 60mm Back | 85mm Up |
| 7 | 70mm Back | 85mm Up |
note: all measurements are in relation to stock position (0 mm).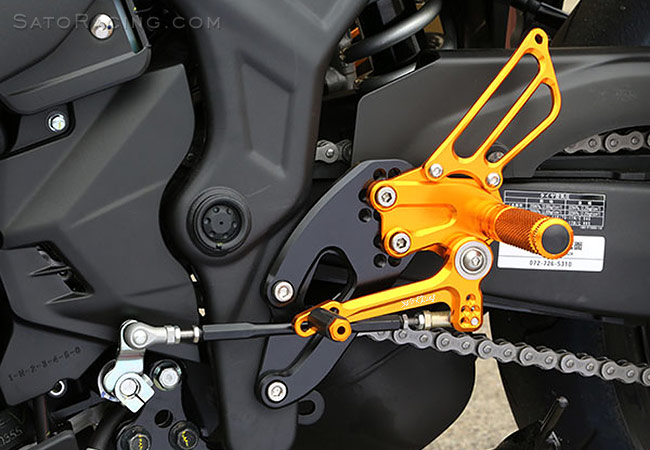 Modular design allows repositioning of the entire Rear Set assembly by moving the 2 bolts on
the base plate. The shift pedal has multiple adjustment points for fine-tuning the shifter feel.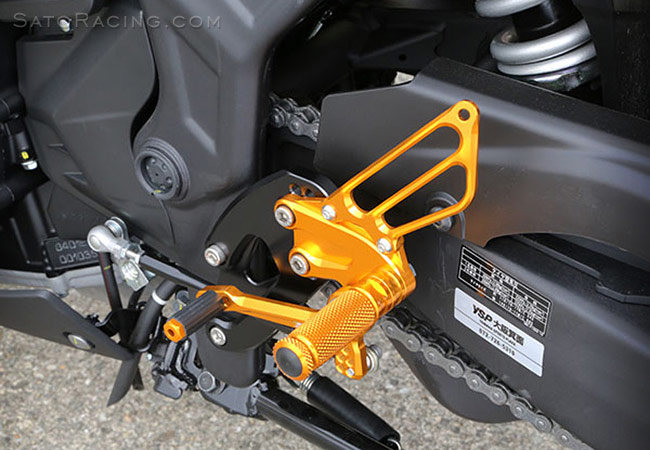 Knurled Foot Pegs provide nice grip, along with a comfortable, intuitive feel.
For reverse (GP) shift pattern, flip the stock change arm the opposite direction.
BLACK
w/ Gold accents
Y-R3RCRS2-BK
$520
GOLD *
w/ Black base plates
Y-R3RCRS2-GD
$520
AVAILABLE SOON
NOTE: this part number is a 'special order' item that we may not regularly have in stock, so if you are interested, Contact Us directly to place an order. ETA is usually 4-8 weeks for 'out of stock' items.
* Click Here for important info about Sato GOLD-anodized parts.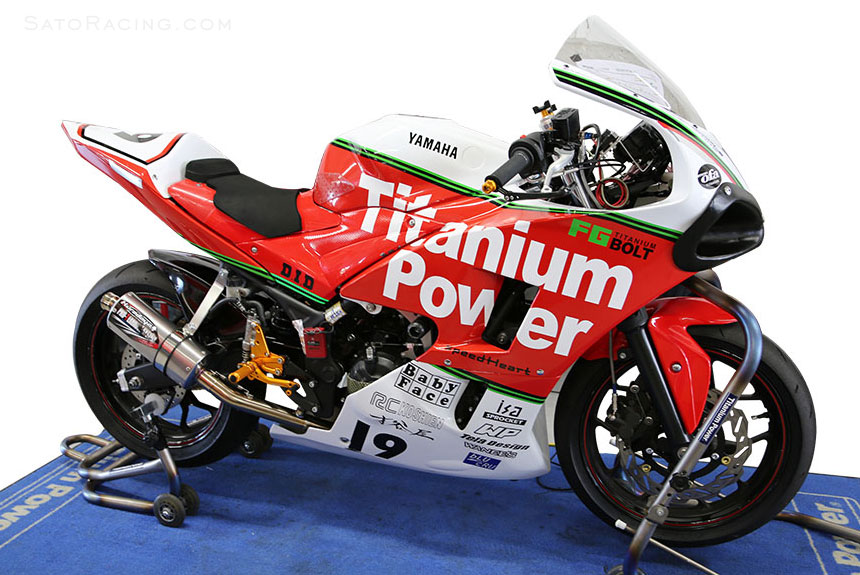 More Sato Racing items for '15- YZF-R3