HONDA GROM ('16-'20)

'High Seat' version
SATO RACING 'Race Concept' Rear Sets (High Seat version) for 2016 and up Honda Grom / MSX125 are pure, no-compromise race-spec Rear Sets, designed for track-only bikes.

CNC-machined out of high strength billet aluminum, these racing Rear Sets provide a dedicated GP-style reverse shift pattern, and feature special short-style foot pegs and pedal tips, to help maximize lean angle during cornering. This 'high seat' version Rear Sets features a different base plate with a higher set of positions compared to our standard GROM Race Concept Rear Sets, and is designed especially for GROM's that have been modified with a raised seat. As such, the range of positions is much more agressive compared to stock, bringing your feet significantly higher up and further back. Available in a vivid Gold anodized finish, with contrasting Black base plates.

NOTE: Not for street use - Not brake light switch-compatible. Not compatible with the stock exhaust (there is no bracket to attach the stock canister hanger).
(For more street-friendly Rear Sets that are compatible with the stock rear brake light switch and exhaust, see our standard version Rear Sets for 2017 Grom).

We also have an optional Shift Spindle Holder that works great with these Rear Sets, reducing play in the shift spindle for more precise shift action.

The shift and brake pedals utilize miniature double stainless bearings for smooth, precise movement.

High-position base plates come in a black anodized finish. Provide 4 adjustable mounting
positions for the rear sets assembly. Our photos show these rear sets installed at 'Position 2'.
POSITIONS
| | | |
| --- | --- | --- |
| 1 | 170mm Back | 95mm Up |
| 2 | 185mm Back | 95mm Up |
| 3 | 170mm Back | 110mm Up |
| 4 | 185mm Back | 110mm Up |
note: all measurements are in relation to stock position (0 mm).

These Rear Sets provide a dedicated GP-style reverse shift pattern.
Short-style Foot Pegs have a finely knurled grip pattern for excellent feel. Compact aluminum Pedal Tips with fluted rubber grips are slso standard. This combo gives these Rear Sets a very low profile, so you can go for steeper lean angles in corners without worrying about grinding down the pegs.
GOLD *
H-GROM16RCRS2-GD
$500
NOTE: this part number is a 'special order' item that we may not regularly have in stock, so if you are interested, Contact Us directly to place an order. ETA is usually 4-8 weeks for 'out of stock' items.
* Click Here for important info about Sato GOLD-anodized parts.

OPTIONAL PART

HONDA GROM ('13-'20)
SHIFT SPINDLE HOLDER
SATO RACING Shift Spindle Holder for Honda GROM (all years) adds strength and rigidity to the shift rod linkage by reducing play in the shift spindle, for more consistent and precise shifting and extra durability in heavy-duty use. Gold anodized billet aluminum with a Teflon inner bushing.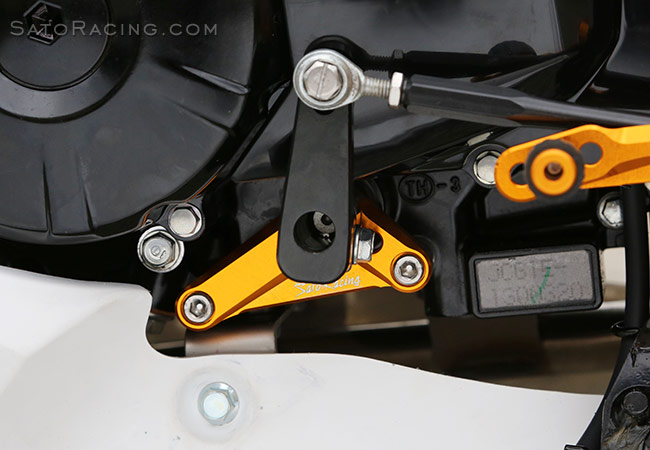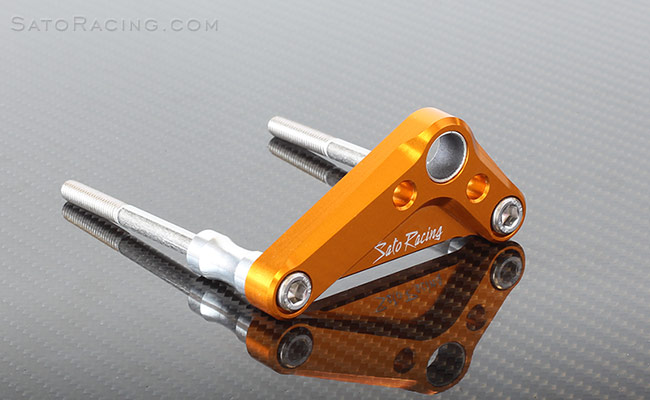 GOLD
H-GROMRS-SHDR
$75

More Sato Racing items for Honda GROM